Conjure up a believable character, such as nan, with a few relevant personality traits to improve students' writing skills and experimental understanding
A commonly assessed scientific skill is method writing. Students often believe this to be quite simple, but there are always complexities involved and writing a method well is a great way for us teachers to see if students truly understand the science behind an experiment.
For example, let's look at the practical of making copper sulfate crystals from sulfuric acid and copper carbonate. Common student answers I've seen go something like: 'You need to add the reactants together and mix them up, then filter them and then put them into a dish. You then use a Bunsen burner to heat the mixture to evaporate it and you're left with crystals.'
Now, I would argue that this student knows some science. But not enough. Not enough for them to gain marks in an assessment, but not enough for them to understand why these steps are happening, either.
My nan is forgetful, curious and particular. So, your writing needs to be clear, reasoned and detailed
Meet my nan
This is where I introduce my nan. I say to my students: imagine my nan wanted to do this experiment. My nan is very forgetful, so the instructions need to be simple, clear, logical and ordered. My nan is very curious, so you need to give reasons. My nan is very particular, she always wants to use the right piece of equipment for the job. Then I tell them: write a method for my nan so she can successfully do this experiment.
An example answer could now be:
Pour sulfuric acid into a beaker.
Add copper carbonate to excess – this is so you know you've reacted all the sulfuric acid. You can tell this when it stops dissolving and you see no effervescence.
You will produce a copper sulfate solution.
You can see we're adding detail to our method. My nan knows there's a beaker involved; she knows why she's adding to excess. She knows what she's made. She's happy!
Students might not remember all the steps, but they will remember your nan, and they'll remember to make the method as clear as possible
Now get your learners to ask themselves the following questions to further develop their skills: what are we doing? What equipment are we using? Why are we doing it?
An answer could now be:
Filter the mixture, with filter paper and a funnel, to ensure you remove the excess copper carbonate from the solution.
Pour the copper sulfate solution into an evaporating dish.
Heat gently with a Bunsen burner to only partially evaporate the solution.
Leave the solution to cool and crystallise.
This hits all the points; we've been clear and logical. This is also great for students' learning – they understand why they're taking these steps. As students are writing their answers, I say to them, 'Read it back, is that good enough for my nan? Is it clear enough, have you satisfied her curiosity? Have you been descriptive about the correct equipment?'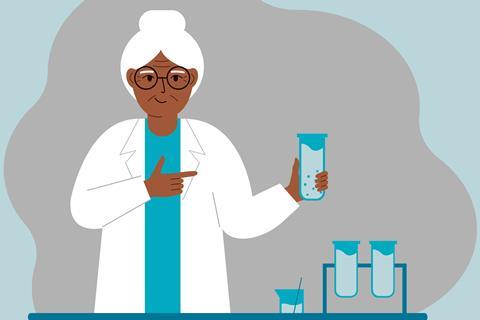 Create your own character
Tell the students it's your nan, or Mum, or neighbour, or whoever you want it to be. Make it real to them. Bring that character to life, someone they will remember. My nan is forgetful, curious and particular. So, your writing needs to be clear, reasoned and detailed. Students will remember this. They might not remember all the steps, but they will remember your nan, and they'll remember to make the method as clear as possible.
Improve students' skills
You can use this method to improve students' answers and understanding, with a few simple alterations:
Change 'Measure temperature' to 'Measure temperature with a thermometer'.
Change 'Repeat experiment' to 'Repeat experiment, keeping the volume of sulfuric acid the same'.
Or change 'Repeat experiment' to 'Repeat experiment to make it more reliable'.
While the examples given touch on variables, such as excess copper carbonate and maintaining the same volume of sulfuric acid, additional emphasis on controlling and measuring variables will further enhance the scientific rigour of the method and develop learners' other practical skills too.
When students can write methods like this, it will show you that they fully understand the science behind the experiment. They'll be able to identify errors in other experiments. They'll be able to explain why certain things are happening. This will not only help them in their exams but also in further study. The ability to write detailed scientific methods provides students with a range of benefits, including clarity and replicability of research, improved organisation and planning skills, and enhanced critical thinking and problem-solving abilities, while improving their literary skills as well. Nan would be proud.

Richard Gill is a science teacher in the south-east of England. He specialises in physics and has a keen interest in teaching and learning. He is currently doing an NPQ in leading teacher development. In his spare time Richard plays cricket and helps out with the school's DofE program.
View full profile