Annabel Jenner considers the impact of single-sex education on girls' attitudes to studying science post-16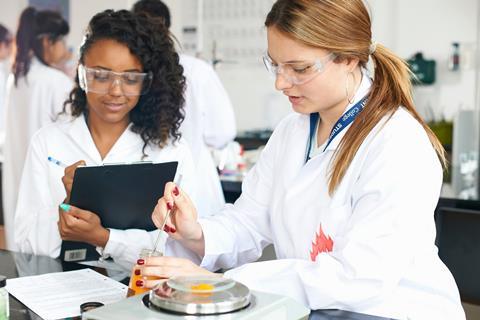 In 2015, the year I moved from a co-educational to an all-girls' school, the United Nations designated 11 February as the International Day of Women and Girls in Science, in a bid to 'achieve full and equal access to and participation in science for women and girls'. This was my first experience – as teacher or pupil – in this type of school, and I was curious about the potential educational impact of a single-sex environment. Seven years later, what have I learned?
My school caters for girls aged 3–18, although many pupils join from co-ed schools in years 7 and 12. The educational world these pupils inhabit is one where girls naturally take the lead in lessons; there is space for them to build their confidence, develop leadership skills, take risks, and accept that to get things wrong is part of the learning process. Younger pupils walk past classrooms full of sixth form girls studying STEM subjects and are given no reason to internalise the idea that perhaps they are not part of a national majority.
Positive bias
To me, this is the biggest advantage of educating girls alongside other girls. Their environment offers them a positive bias regarding what girls can achieve in STEM subjects. They see their peers' achievement and engagement in science as a function of effort and interest, not gender. Recent research showed that girls as young as six could agree with the notion that 'genius' (a concept often linked to STEM subjects) is a male trait. I'm fascinated to know if girls educated in a single-sex setting would subscribe to the same view.
A classroom full of girls does not remove the possibility of more extrovert individuals dominating class activities
A common concern about single-sex education is that pupils don't learn alongside the opposite sex, and later, girls in particular could find co-ed settings intimidating. This may be a valid point, but it is not something I have experienced. When our pupils engage in off-site extracurricular opportunities, including regional and national STEM competitions, and A-level laboratory sessions at a local university, we see how our pupils cope in a co-ed context. They mostly work with confidence and are no more daunted by the unfamiliar surroundings than those from mixed schools.
Confidence, all round
However, all-girl education still presents some familiar problems. The number of A-level chemists also taking biology routinely outstrips the number also studying physics; clearly more research is required to establish why girls are less likely to study physical sciences, and what can be done to address this. And while most of our pupils feel confident in their learning environment, it is still crucial for teachers to engage and encourage quieter pupils; a classroom full of girls does not remove the possibility of more extrovert individuals dominating class activities.
A single-sex environment can nurture self-confidence and a sense of belonging
Then there are pupils who are academic all-rounders, and struggle to narrow down their interests to three or four A-level subjects. What is true for STEM subjects is also true for the arts and humanities: our pupils feel enabled in those fields too, so are just as likely to pick those subjects post-GCSE. But while an all-girl teaching environment may only have limited potential to boost girls' uptake of A-level STEM subjects, it can certainly ensure that those who are well suited to such courses have had the opportunity to realise it from an early age.
Is an all-girls' education the best option for increasing female uptake of STEM subjects at A-level? I genuinely don't know. All modes of education have their strengths and weaknesses, and as a society we are probably better off with a diverse mix of schools in our communities. However, my personal experience has been that a single-sex environment can nurture self-confidence and a sense of belonging in girls, which contributes significantly to the likelihood of them feeling able to choose STEM subjects at A-level, with a strong expectation that they will thrive.
Annabel Jenner is a chemistry teacher in an all-girls' school