Challenge your learners to apply their knowledge of physical and inorganic chemistry to less familiar contexts, such as haemoglobin
This resource accompanies the Education in Chemistry article Carbon monoxide – the silent killer.
Learning objectives
Review bonding concepts and use them to describe the bonding in haemoglobin (task 1).
Apply the equilibrium law and Le Chatelier's principle to the equilibrium reactions occurring between haemoglobin, oxygen and carbon monoxide (task 2).
Draw conclusions from half-cell equations and their E0 values about the relative stabilities of binding ligands in complex ions (task 3).
Analyse the half-cell equations and their E0 values to examine the effect of pH on redox potential and the final oxidation state of the reductant (task 4).
How to use
There are four tasks in the resource, which can be used in several ways to fit in with the scheme of learning and assessment plan for the programme. For example:
as part of the teaching programme for transition metals (tasks 1 and 2) and redox chemistry (tasks 3 and 4)
as a whole class activity, eg a time framed, team-based learning challenge
as part of a revision programme reviewing topics of bonding, chemical equilibrium, transition metal and redox chemistry
as a summative homework assessment at the end of teaching transition metals
as part of a synoptic summative assessment of physical and inorganic chemistry
Hints are provided for some questions to make them more accessible to a wider range of learners.
The second part of task 4 is intended to be a challenge. Learners will construct full ionic equations from half-cell equations and their respective E0 values for rusting in alkaline conditions.
Cross-curricular links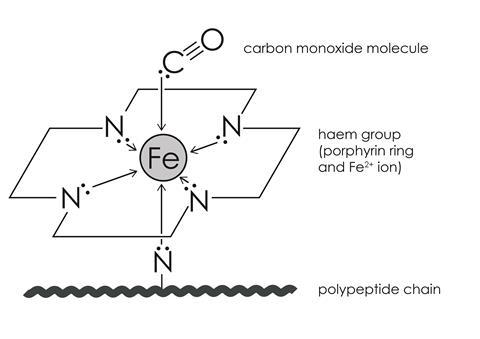 Highlight the overlapping topics with biology and environmental chemistry when teaching incomplete combustion of hydrocarbons to your 16–18 learners. Use the context of haemoglobin to reinforce applications of transition metal chemistry – in particular, complex ions and the concepts of chemical equilibrium occurring in ligand exchange. Why not discuss the role of research and development in finding solutions to complex long-term health issues, such as carbon monoxide poisoning? Learners could also investigate this topic as an individual research project in qualifications such as the Extended Project Qualification (EPQ) and Advanced Skills Challenge Certificate.