A pilot initiative to increase the science capital of 11–13 students with interactive, curriculum-linked experiences
The Royal Society of Chemistry (RSC) today launched the Find Your Element initiative, a pilot project funded by the RSC's Chemists' Community Fund. It's social mobility initiative to increase science capital and engagement with chemistry among students from socio-economically disadvantaged areas. Developed in partnership with and delivered by our partner The Talent Foundry Trust, it will give students a unique curriculum-linked experience completing interactive tasks, practical experiments and activities around the theme of sustainable communities.
The initiative was developed in response to research highlighted in the RSC's five-year programme, Chemistry for All. The findings revealed the impact of inclusion and diversity on the chemistry workforce – both in empowering children to aspire to fulfilling science careers and in ensuring companies benefit from diverse points of view, which is proven to result in better research and industrial outcomes.
What does it involve?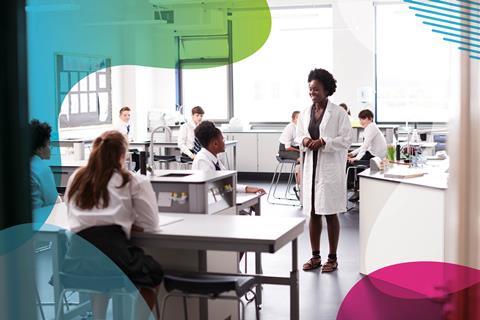 A three-part sustained intervention, Find Your Element aims to help students see the potential of chemistry and its role in their lives, improve their confidence in their chemistry abilities, and highlight the various vocational opportunities available in the chemical sciences.
Two schools from areas of low science engagement – Our Lady & St John Catholic College in Blackburn and Ash Hill Academy in Doncaster – will take part in the programme over the course of one academic year, supported by higher education partners, The University of Sheffield and Lancaster University as well as industry partner Victrex. The first two parts of the programme will run as half-day (three-hour) workshops in school, and the final part will be a full-day event at a university campus.
Mentors from the RSC membership network and Victrex will support the young people through the sessions, along with university student ambassadors providing a holistic perspective on futures in the chemical sciences. This will help grow the students' academic confidence and develop core transferable skills such as creativity, problem solving and teamwork.
Cate Smith, head of programmes at The Talent Foundry, says: '… as I know from my own experience, science careers can be both fun and hugely fulfilling, so I hope this partnership is the spark to ignite the inspiration for many of the students involved.' President of the RSC, Gill Reid, agrees: 'This is a really exciting pilot, which aims to unlock the promise of students who may not otherwise receive the inspiring chemistry education they deserve. We're pleased to be supporting this project through our Chemists' Community Fund and very much look forward to seeing the results.'
What's next?
The pilot will be evaluated to provide proof of concept as well as an evidence base to direct future decisions for the project. To build on the foundations of participation in the Find Your Element initiative, teachers will be able to use learnings from the programme to further develop and improve chemistry and CEIAG – careers education, information, advice and guidance – provision within their schools.
The RSC is dedicated to championing careers and diverse role models. It wants to help young people from disadvantaged or under-represented groups identify with the chemical sciences, understand the significance and purpose of chemistry and see pathways to careers in the chemical sciences as realistic options for their future. Central to RSC Education's strategy is the goal of increasing the RSC's impact with disadvantaged and under-represented groups. This initiative shows promise of working towards that goal.
Want to get involved?
If you'd like get involved as a volunteer, RSC members can support the initiative to inspire the next generation of chemical scientists. You don't need any experience working with young people and you'll be provided with everything you need ahead of the session/s.