Emma Woolman is a science technician at The Roundhill Academy in Leicester. She received funding from the Chemistry Teaching Empowerment Fund to help with the organisation of a microscale chemistry CPD day in March 2023. Emma filled us in about the event, passing on her tips for anyone considering applying for the Fund.
What made you decide to apply for the Fund?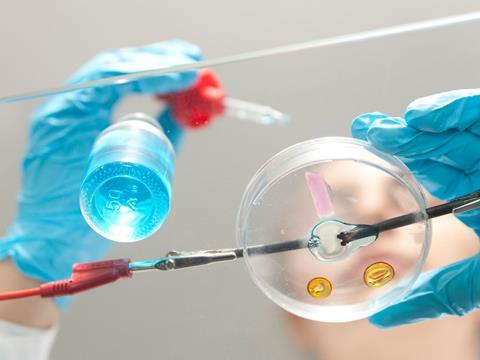 I saw the Fund mentioned on the Preproom.org forum and thought it would be a great opportunity to share some of the work I had been doing lately on adapting practicals to microscale, develop my own career/skills by running my first CPD event and network with other science educators.
I had recently attended a "make and take" day at a school in Birmingham, which like my project was free CPD led by their technician. Seeing an event done well from the perspective of an attendee definitely inspired me to go through with my application.
What was it that you wanted teachers to get out of attending your event?
I wanted teachers to learn the practicals hands-on, and see first-hand how the required practicals could be adapted to microscale and what benefits that would have for pupils, teachers and technicians.
I was also very keen for teachers and technicians to work together at my event. In my experience, technicians and teachers working together can make really well-rounded innovations in practical science that help pupils learn. This desire was also influenced by having seen (though luckily not experienced first-hand) that technicians in general are not necessarily as valued or visible as they could be in secondary science education. When this happens I believe it's a detriment to everyone involved.
I hoped that working together to do something new, as they did when participating in my project, would promote technicians and teachers working more collaboratively in general. It would help them feel like they are on the same team (which they absolutely are), while getting them to see things from each others' perspective. I envisaged technicians thinking about exam paper content and cognitive load theory to design improved methods and equipment and teachers making and testing their own novel equipment from parts they could find around their labs.
How did you go about planning your event?
I decided early on to focus on required practicals as I thought these would be more relevant to a wider audience. I also felt from the beginning that it was important that the whole event be free to attend as I know a lot of schools were reluctant to fund external CPD.
I chose the experiments I wanted to share first and then put together a rough plan for the day. Then I reached out to contacts at other schools and through Preproom.org to gauge interest and estimate attendance so I could start pricing up, before applying for the grant from the RSC.
When my application was accepted I refined my plans to the final outline, approached my potential participants, set a solid date and started purchasing and making the equipment and resources.
How did you approach your invited guests and get them on board?
I approached most potential attendees through the Preproom.org forum as well as approaching some of my teaching/technician contacts through word of mouth. I focused on the collaborative nature of the project and the benefits to the science department to attract technicians and teachers. The fact that it was free gave my potential attendees something positive to take to their respective finance departments when requesting the time off to attend!
What did you get out of running the event?
I feel like running the CPD has definitely increased my confidence with public speaking and leadership. I'm neurodivergent so while I was confident in my science knowledge and my practical skills this aspect was a big hurdle for me and I'm pleased that I was able to navigate it well and run a successful event.
Do you have any advice for teachers who are considering applying for the Fund and running their own event?
Definitely apply! I think peer-led CPD and local collaboration is definitely the future of innovative practical science teaching. I was apprehensive at first as I had never done anything like this for an external audience, but I had a great experience and got a lot of very positive feedback from my attendees.
The process of applying is quite straightforward and well worth it.