Michael O'Connor is a chemistry teacher at Tallaght Community School in Balrothery. He received funding from the Chemistry Teaching Empowerment Fund in April 2022 to create a resource to help with the understanding of moles, stoichiometry and first principle calculations. Michael explained the project to us, passing on his tips for anyone considering applying for the Fund.
What made you decide to apply for the Fund?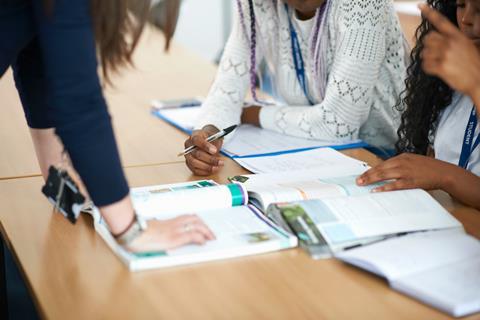 I was passionate about developing a scaffolding resource that is vital to understanding mole concept, stoichiometry and first principle calculations in titrations.
What was it that you wanted teachers to get out of your resource?
I hoped teachers would have a possible mindset shift or at least experience an alternative approach to solving a perennial problem for students in the terminal exams.
How did you go about planning your project?
I asked colleagues in the English and art departments to review my resources as clarity was the bedrock of this project. To test the resource, I wanted to plan an active event with old fashioned pencil and paper to put teachers in the place of a struggling student. Understanding the skills of constructing rough work columns and extracting relevant mathematical data from the exam questions was key.
Event logistics and room space were considered to best support delivery. Empirical evidence of success on the evening was delivered through the attendees who were providing feedback on their own learning with this method.
This was a development of an active learning resource. A very basic short PowerPoint with my own notes to keep me on track and to compliment each concise slide at each hinge point. Workbooks were printed for the workshop and plenty of stationery was provided. We also had a coffee break with scones and cakes midway through!
How did you approach your invited guests and get them on board?
I initially contacted all the local schools with an invite and expanded this through the Dublin branch of the Irish Science Teachers Association. In these emails a short attention grabbing synopsis was provided to hook their attention and it worked!
What did you get out of the project?
It boosted my confidence in this teaching method – especially with the constructive feedback from teachers which guided me to improve and evolve the resource.
Do you have any advice for teachers who are considering applying for the Fund and running their own project or event?
Go for it! It was a very rewarding experience and definitely improves your own practice in the first instance. If you are delivering to fellow subject experts be prepared for and take onboard all feedback and evolve your practice.