Jamie improves steelmaking processes to reduce their impact on the environment
Mae'r proffil hon ar gael yn Gymraeg
Hi, I'm Jamie and I work as an environmental process specialist within the Sustainability and Environment department at Tata Steel, UK.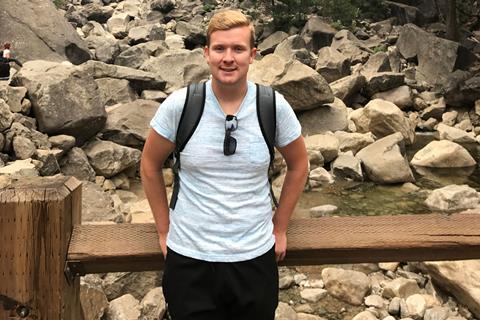 What does an environmental process specialist at Tata Steel do?
My job is focussed on making improvements to processes within the integrated steelmaking to reduce our impact on the environment. Tata Steel manufactures steel products from raw materials and scrap for a variety of functions, including construction, automotive, engineering, packaging, etc.
How does your work affect the world around us?
The projects I am involved in are helping to reduce emissions into the land, water and air.
Salary range and qualifications required
Salary range: The graduate scheme intake is at £28,500 pa, increasing on completion of the scheme and additional experience.
Minimum qualifications: You must have at least a 2.1 (IET accredited) in a science or engineering degree or other relevant discipline.
What is your typical day like?
My job is a mixture of project meetings, review meetings, onsite work, research laboratory work, data analysis and interpretation.
Why did you choose chemistry? What keeps you motivated?
I always enjoyed the practical aspect of chemistry, undertaking laboratory experiments. It allows the development of a wide range of transferable skills including data analysis, attention to detail and problem solving. I am genuinely interested in the projects that I am involved in at Tata, which span chemistry, biology and engineering.
What do you like most about your job?
The projects I am working on are genuinely interesting scientifically and the scale of the integrated steelmaking process means any gradual improvements can lead to large environmental performance improvements.
What skills do you need for your job?
You need skills such as:
data analysis
attention to detail
problem solving
laboratory skills
lateral thinking
team working
communication
stakeholder management
project management
How did you find your job? How did your qualification help you to get there?
I found my job through a LinkedIn advert.
The skills I developed at university broadened my technical understanding which I have been able to apply during my time working at Tata Steel. The vast array of transferrable skills developed through academic study (including presentations, laboratory studies, workshops and the master's research project) allowed a smooth transition into a professional environment.
What advice would you give to a young person considering a career in your field?
A chemistry degree will enhance your employability as it is a central science and the skills developed are of great use in the working world. It opens up the avenue to potential further study through a master's and/or PhD or employment in a wide variety of sectors.
What do you see yourself doing in the future?
I can see myself undertaking a technically focussed management role.
Want to know more?
Jamie Barrett MRSC, environmental process specialist at Tata Steel, UK.
Hear from more chemical scientists in Wales
Discover profiles of other chemical scientists working in Wales, ranging from pollution control and pharmaceuticals to product development and more.
Published September 2022