Advertisements for science teaching posts abound. Here's how to make yours successful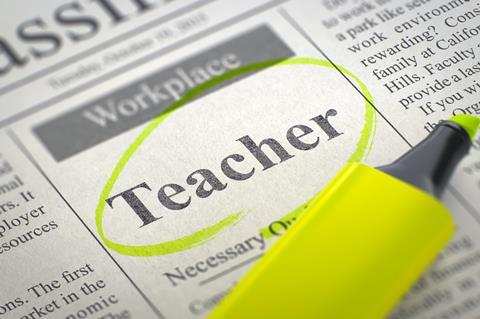 Teacher recruitment is at an all-time high. A study by Gatsby showed that between 2016 and 2017 there was an increase of nearly 16% in science teacher recruitment activity in England. So in this crowded market what should you do to make your job advertisement stand out, and what are prospective applicants looking for in a new school?
Start with the basics
Any good applicant will research a school before making an application. To help applicants quickly narrow down the field, start your job advertisement with a quick overview of the department. Include information such as science courses offered with student numbers, number of teaching staff and the overall department vision. Academic results can highlight the strengths and weaknesses within the department. Detail extracurricular opportunities to provide an idea of the wider department ethos.
Generalist or specialist?
To get the right candidate, advertisements should make it clear what the successful applicant will be expected to teach. Most schools expect teachers to teach across all specialisms at 11–14, but if there is a possibility of delivering GCSE triple chemistry, or if lessons are taught in specialism at GCSE level this is more likely to attract subject specialists. In its recent report, Gatsby found there is no evidence to suggest advertisements for specialist science teachers are any less likely to result in success than those for generalist science teachers. It recommended schools seek specialists where appropriate.
An opportunity to teach A-level chemistry can be an additional draw for those looking to teach within specialism.
Managing workload
The single biggest issue that drives experienced teachers from the profession is workload. This led the Department for Education to issue its Workload Reduction toolkit. Teachers are therefore understandably looking for schools in which workload is manageable and a good work-life balance is possible. Access to a good quality, fully resourced and collaboratively developed scheme of work reduces teacher workload. It frees teachers up to teach in a way that best suits their professional judgement and experience, and is an attractive draw for prospective applicants.
An experienced technician team is invaluable in supporting teachers and students, yet in many schools budget constraints mean technician hours are being cut. Include in your job advertisements what kind of technician support is available in your school, with details such as the number of technicians and prep rooms. If you are lucky enough to have subject specialist technicians say so. The Gatsby's Good practical science report highlighted the importance of practical science in learning science and in developing valuable skills and attitudes. Excellent technician support and well-equipped labs are essential in making this possible.
Environment
The promise of their own laboratory in which to teach is a big draw. Moving classroom between lessons adds extra stress to the day; resources need to be transferred between rooms and different seating arrangements managed. A lab of your own enables teachers to 'own' the environment. Student work can be displayed and furniture arranged in a layout to suit their teaching style.
Effective recruitment is a two-way process
Many schools also have separate shared offices for staff, providing a quiet place to work and facilitating the sharing of resources and joint planning. Similarly your school may have a dedicated science staffroom with basic kitchen facilities for break and lunchtime relaxation. Describe these facilities in your advert; they implicitly demonstrate the importance the school places on staff well-being.
Salary and developmental opportunities
An analysis of the teacher workforce in schools in England by the Department for Education between 2011 and 2015 showed that teachers moving between state-funded schools accounted for an increased proportion of recruitment activity. In 2015 it was the biggest source of new entrants to schools; 16% points more than NQTs.
With more movement between schools many teachers are looking to move into a position on the upper pay scale. A job advertisement indicating a salary of MPS or UPS (main pay scale or upper pay scale) will attract a wider range of applicants. Teachers can also be attracted by the opportunity for extra responsibility, perhaps with a TLR (teacher and learning responsibility payment) attached.
Among the many reasons why teachers look to move school is the opportunity to continue their professional development. The best CPD (continuing professional development), as recognised by the Developing great teaching review, focuses on subjects and on curriculum, and includes an element of external expertise, support and challenge. Teachers look for these opportunities in job adverts. Highlighting links between departments and subject associations, such as being registered with the RSC Learn Chemistry Partnership, will illustrate the value your department places on continuing professional development.
Getting the right candidate
Effective recruitment is a two-way process. Schools are looking to attract the best candidates, while candidates are looking to find the position that best suits them. Although from an outsider's viewpoint it may appear that all schools are the same, the style in which students are taught varies. Some schools favour a traditional approach whereas others may be more progressive. Make sure the ethos of your school and your department is clear in the job advertisement, through explicit statements and implicitly through the wider advertisement.
Squeezing all these details into an advert can be difficult. School social media accounts are an excellent way to give an informal overview of your school ethos and values. Add links to these and department specific accounts in your adverts. Finish by offering prospective applicants the opportunity to visit the department and school prior to applying. It's an excellent way to enable them to see your school at work – and it might just provide a prospective candidate with the impetus to apply.

Catherine is head of science at the Hinckley School, an 11–18 academy in Leicestershire.