After decades of a three-tiered GSCE science system in Wales, the RSC's education programme manager for Wales, Dayna Mason examines why one qualification for all makes sense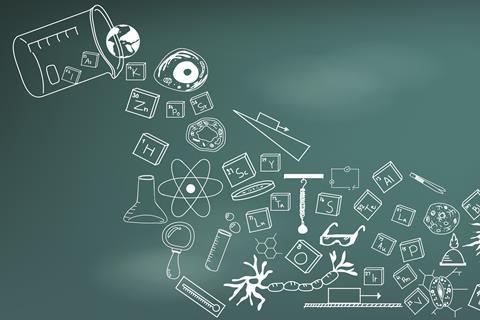 The education landscape in Wales is changing. To align with Curriculum for Wales, Qualifications Wales is completely reforming its qualifications. The existing suite of science courses – single award, double award (including applied) and separate (triple) science – are being replaced with just one qualification, GCSE The sciences, which is equivalent to two GCSEs and intended to be suitable for the majority of learners.
Perhaps surprisingly for some, a number of science organisations, including the Royal Society of Chemistry (RSC), have adopted the position of a single route through the sciences. A single route avoids limiting learners' options and allows more equitable access to the sciences.
Mae'r erthygl hon ar gael yn Gymraeg hefyd
Issues with the outgoing system
The outgoing GCSE-level science options require learners to make a choice about their futures at age 13. This choice is not always their own – some schools decide which qualifications are offered to which learners, creating an illusion of choice. Recent research has highlighted this 'educational gatekeeping', finding that only 22% of learners from the least advantaged backgrounds studied triple science, compared to 71% of learners from the most advantaged backgrounds. In Wales, one in five secondary schools does not offer the opportunity to study triple science, according to a Qualifications Wales report (pdf).
If schools select which route learners follow, they risk creating a selective two-tier system where learners associate those who are 'good at science' with the triple-science route, and those who are 'not clever' or 'bad at science' with the double-science route. This perception of qualification difficulty can limit a learner's confidence, and consequently limit what they see as their options for progression.
A single route allows more equitable access to the sciences
The outgoing double- and triple-science routes both take learners to GCSE level via a lot of shared content. Triple science's additional content adds breadth rather than taking learners to a higher level. However, many schools that offer triple science teach it on a compressed allocation of lesson time resulting in the course being more challenging.
With a single route, all learners will have the time and opportunity to explore the sciences and to see if further study is for them.
Addressing teacher concerns
I have heard concerns from teachers in Wales around these proposals. Teachers are worried about loss of teaching time (and potential loss of jobs). They're also concerned that learners particularly interested in pursuing science at post-16 will miss out on additional learning, which would have been provided by a triple-science route.
I want to see a single route in which all learners experience the features of the triple-science course, and I continue to work with colleagues at the RSC in challenging Qualifications Wales to ensure that the single route is implemented in this way. I also want to see the three sciences maintain their disciplinary identity – biology, chemistry and physics. So, for example, each science should be timetabled separately so they can be taught by subject experts. Ideally, I'd want to see each science specified, and graded or marked separately, so learners can tell where their strengths lie.
All learners will have the opportunity to explore the sciences and see if further study is for them
Each science has a distinct way of understanding the material world; I believe this understanding should be developed in learners through a coherent and deep understanding of each discipline's core fundamental principles. From this, connections can be made to the other sciences, and beyond, enabling learners to appreciate both the interconnectedness of the sciences and the multidisciplinary nature of many issues and advances.
What's next?
There are currently several unknowns about the full offer that will sit alongside this new GCSE. This single route should be accessible for the majority of learners – so I eagerly await the outcome of Qualifications Wales' consultation on the plans for those learners who cannot access GCSE-level content.
It is still not clear if science will be compulsory for all to the age of 16 and I want to see clarity on this issue. Alongside my colleagues at the RSC, I have raised concerns around the lack of sustainability and mathematics content in the proposed outlines for the new GCSE, as well as whether Welsh-medium teachers will be provided with the resources and support they will need in a timely fashion. I will continue to raise these issues to ensure that the new qualification works for the majority of learners in Wales.
Since publication, Qualifications Wales revealed their final decisions on the proposed suite of new GCSEs, following a lengthy consultation process. Disappointingly Qualifications Wales have added an additional single award qualification to their science offer. We are very disappointed with this move away from a true single route for all learners, and explained our concerns in a press release.
Updated 22 September 2023

Dayna is the education programme manager for Wales for the Royal Society of Chemistry
View full profile