Gemma manages the production of high-quality tin and chromium coated steels for everyday items found in a kitchen and bathroom.
Mae'r proffil hon ar gael yn Gymraeg
Hi, I'm Gemma (she/her) and I have recently been appointed to product and process development manager in the Quality Department at Tata Steel Packaging Trostre Works.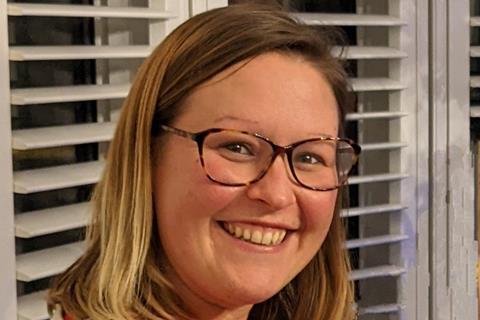 What does a product and process development manager do?
My company produces tinplated and electrolytic chromium coated steel, mainly for food and personal care packaging.
I lead a team whose primary concern is improving our processes and products in terms of quality, sustainability, cost and compliance. We run a variety of projects with the research and development functions within Tata Steel and liaise with university partnerships such as Swansea University and the University of Warwick.
My team also helps the manufacturing teams integrate technical developments into the production process and we carry out assessments to determine how successful they are. We work closely with commercial and marketing teams to ensure we can align our developments to meet customer wants and needs, legal requirements (changes in law for environmental or product purposes) and create a sustainable product and process.
How does your work affect the world around us?
Our material will likely be in your bathroom and cleaning cupboards. For example, Tata is currently a 100% supplier to Heinz Kraft for tins so any baked beans or soup cans you have in your kitchen cupboard were probably tinplated in Trostre. We are also the major supplier into many brands like Gillette, Batiste, Sure, Pledge and WD-40.
Salary range:
Apprentice salary is £16,000–£18,000 depending on apprenticeship level.
Graduate salary is £20,000–£25,000.
Technical specialist is £25,000–£35,000.
Mid-level manager is £35,000–£45,000.
Departmental manager is £45,000+.
After graduate level, these salaries aren't set in stone but are indicative of the current progressions.
Minimum qualifications:
Apprenticeships for the science function are for after A-levels (or equivalent) in STEM subjects.
Graduates need a minimum 2.2 in a bachelor's level degree.
All other roles are aptitude-based and may expect a degree or equivalent experience.
Why did you choose chemistry? What keeps you motivated?
I honestly chose chemistry as I was good at it and enjoyed it. I enjoy all forms of STEM but I chose to study chemistry at university as I knew it would give me a lot of options once I had graduated. The skills learned through a chemistry degree can be applied to so many careers and not necessarily in a scientific field.
Only recently, I have actually come back to a technical detail role. Since my graduation, I have used the logic and problem solving skills learned through a STEM degree to apply myself to all sorts of projects and roles within Tata Steel. I really enjoy the problem solving aspect and find that having a STEM mindset of data-orientated assessment of situations has really helped me drive forward my work and help with the team dynamic we have.
What do you like most about your job?
The variety. In any given day, I can be in a meeting with the commercial function talking about purchasing trends and then, within an hour, be in a research meeting discussing the latest technical detail on a project and how that will affect us. I get to see a business-wide aspect, which not many get to see, and get to interact with a wide variety of people within our business and outside of it.
What skills do you need for your job?
As a manager of people and projects, a lot of the skills are people and project management based. Team working is key – and especially facilitating team working – as we deal with a wide range of individuals from different backgrounds. Communication skills and being able to adapt your style to the audience are also important – more technical for research teams and more personable for customer involvement. Problem-solving skills and data handling are key in any technical role and especially in this, where you may have a lot of different inputs to handle. One underestimated skill is organisational skills. With so many projects going on at once, and so many different teams involved, it is key to have a clear structure as to what is happening at what point, who is responsible and what the project timeline is to ensure delivery to the business.
How did you find your job? How did your qualification help you to get there?
I studied chemistry at Cardiff University and attended a lot of careers fairs in my final year. There were companies from all over the UK and I started talking to the recruiter for Corus at the time, which has since become Tata Steel. I applied for a graduate position and was lucky enough to be accepted for the summer that I finished my degree. Since the graduate programme, I have been given the opportunity to have a number of roles including technical manufacturing support, customer service, laboratory-based investigative work, project management and problem-solving teams.
I joined Tata Steel as a graduate so my degree in chemistry was key to being accepted into this role. Not only did my degree cover the technical knowledge required for a good basis in a graduate role, my course also covered some personal skills which were really useful during the application process like interview skills. Then, once I was employed, I built on skills like communication and presentation skills.
What advice would you give to a young person considering a career in your field?
My main piece of advice is to choose something that really interests you. If you are genuinely interested and enjoy a career or topic, you will go on to succeed much more than if you don't enjoy it. Even on the tough days where things aren't going right, it is much easier to pick yourself up and start again if you have a passion for it in the first place.
What do you see yourself doing in the future?
There are a lot of options open to me at the moment and it really depends on what the structure of the business looks like in the future. I could possibly move back into a quality manager style of role, looking at a wider range of day-to-day quality and strategy, or a more customer-facing role, or even move further into a commercial and marketing style of role. My current position would allow a wide range of options depending on my future ambitions and opportunities.
Want to know more?
Explore your study options, talk to a career adviser and look into gaining work experience.
Browse Tata Steel's website to get a flavour of the different career options available there.
You could also follow Tata Steel Careers UK on social media which would tell you of any upcoming events, including careers fairs, open days and links for job applications.
Gemma Finn-Lewis, product and process development manager in the Quality Department at Tata Steel Packaging Trostre Works.
Hear from more chemical scientists in Wales
Discover profiles of other chemical scientists working in Wales, ranging from pollution control and pharmaceuticals to product development and more.
Published September 2022