Learn about the exceptional winners of the 2022 RSC Education Prizes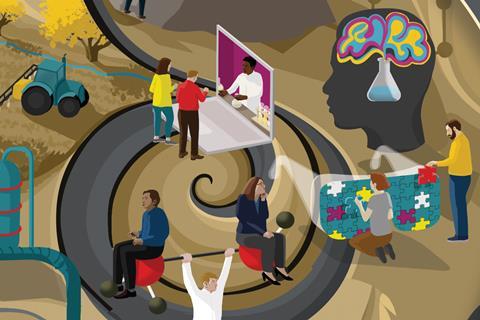 Every year, the Royal Society of Chemistry (RSC) celebrates and rewards educators doing exceptional work in the chemical sciences with its Education Prizes. The awards showcase inspirational, innovative and dedicated people and teams working in primary, secondary, further and higher education.
The Excellence in Education Prizes celebrate individuals and teams, early career and established teachers, technicians and lecturers. These prizes recognise a wide range of skills – from curriculum design to effective teaching, and from personal development to working culture. The Horizon Prizes celebrate ground-breaking innovations and initiatives that mark a step-change in science education. They highlight recent initiatives set to make a real impact within the field of education. These initiatives could be teaching programmes or techniques, research breakthroughs or innovative technologies.
The 2022 winners
Excellence in Education Prizes
Early Career Prize for Excellence in Primary Education: Serena Parker-Sharp, Spring Grove Junior, Infant and Nursery School
Early Career Prize for Excellence in Secondary and Further Education: Wesleigh Dawsmith, Jewish Community Secondary School
Early Career Prize for Excellence in Higher Education: Ben Pilgrim, University of Nottingham
Excellence in Primary Education Prize: Caroline Skerry, St Joseph's School
Excellence in Secondary and Further Education Prize: Lynn Kidwell, Birches Head Academy
Excellence in Higher Education Prize: Alison Hill, University of Exeter
Team Prize for Excellence in Primary Education: LeiPriSci PSTT Cluster
Team Prize for Excellence in Secondary and Further Education: Greenhead College Chemistry Department
Team Prize for Excellence in Higher Education: Chemistry Lab-In-a-Box Team, Imperial College London
Horizon Prizes for Education
Leeds Lab Educators
Bond Chemical Education Team
House of Science New Zealand
Recognising the crucial role that educators play in advancing the chemical sciences is vital believes RSC chief executive, Helen Pain. She says, 'we commend their ability to inspire and nurture the next generation of bright young minds, so that they can go on to make new discoveries and innovations.' Because society faces many so many challenges educators can help 'give us the tools we need to advance our understanding of the world around us and solve many of the problems we encounter,' she adds.
President of the RSC, Gill Reid also acknowledges the significance of these awards: 'For many of us as chemists, our teachers were our inspiration – their influence in driving the next generation of amazing scientists cannot be underestimated. This year's winners set exemplary examples of the impact this can make; it's no exaggeration to say their successes will be felt for generations to come.'
Meet the winners
Visit the RSC awards gallery page for detailed profiles of all the winners and a celebration video with the winners and judges.