Brand-new primary education website with all the RSC's primary science resources in one place is live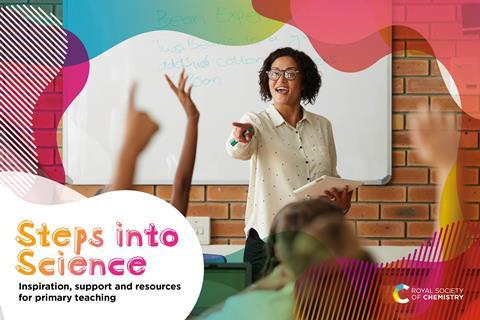 On 25 February, the Royal Society of Chemistry launched a brand-new primary education website – Steps into Science – to improve access to the RSC's wealth of resources available for primary school teachers.
With curated resources organised by age group and topic, the simple-to-navigate site is designed to help primary teachers find all the support and resources they need for making primary science lessons accessible, inclusive and engaging, whether in the classroom or online.
Beyond engaging young learners, Steps into Science is designed to boost teachers' confidence and help them feel enthusiastic about their science lessons
Steps into Science also offers fresh ideas to support primary curriculums, including how to link science cross-curricularly to numeracy, literacy, history and geography. In addition, it points teachers to engaging investigations for younger learners and resources to nurture enthusiasm and inspire children to pursue careers in science.
The site also features a section dedicated to improving access to professional development. This signposts teachers to numerous ways they can boost their pedogogical knowledge, whether by attending courses or reading about some of the latest science developments.
The website team engaged with primary teachers from the early planning stages and incorporated the teachers' feedback into the design. The site also seeks to address a number of key problems highlighted by teachers. For example, the team found many primary teachers feel that it's challenging to find high-quality resources and support for teaching primary science, that investigations are complicated and time-consuming to set up, or that scientific concepts aren't engaging for primary-age children. They also found that many primary school teachers feel a lack of confidence in teaching science.
Consequently, beyond engaging young learners, Steps into Science is also designed to boost teachers' confidence and help them feel comfortable and enthusiastic about their science lessons.
'At the RSC we believe that engaging young learners with scientific concepts at an early stage in their education can help spark a lifelong enthusiasm for science,' said Siobhan Godwood, who was part of the team responsible for designing and building the website. 'By inspiring young minds, we can help ensure that STEM higher education and careers opportunities are available to everyone.'
Additional information
Steps into Science has been generously supported by a grant from the Royal Commission for the Exhibition of 1851.