Successful student-led event helps develop science communication and research skills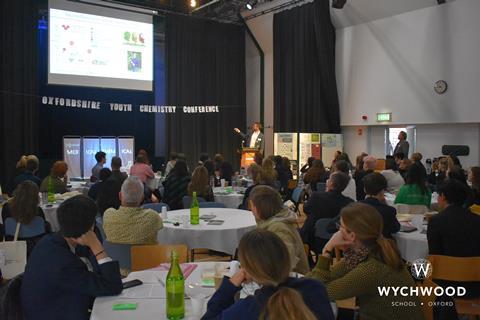 The third annual Oxfordshire youth chemistry conference took place on 24 November 2022 at Wychwood School. First delivered in 2019 with the help of a Royal Society of Chemistry grant, the event has grown year-on-year. The 2022 conference saw over 100 students from 10 UK schools present talks, papers and posters on the theme of Medical chemical.
The leadership team at Wychwood School wants to ensure school leavers are scientifically literate and articulate, says chemistry teacher and deputy head Abigail Stacey. Abigail says the event 'provides students with a platform to practise this. It also gives them a taste of what it is to be an academic, presenting their ideas in a clear and convincing way and reflecting on their peers' ideas.' Sarah Gilbert of the University of Oxford's Pandemic Sciences Institute also emphasised this in her opening message. She encouraged students to 'take note of each other's work' and highlighted the importance of networking – a valuable skill for learners to develop.
Team effort
Not only were the students integral to the day's success, but the host's sixth form students were also key organisers. They worked with teachers and the school's science technician – a lighting, sound, music and presentation expert – to form an organising committee to plan and deliver the county-wide event.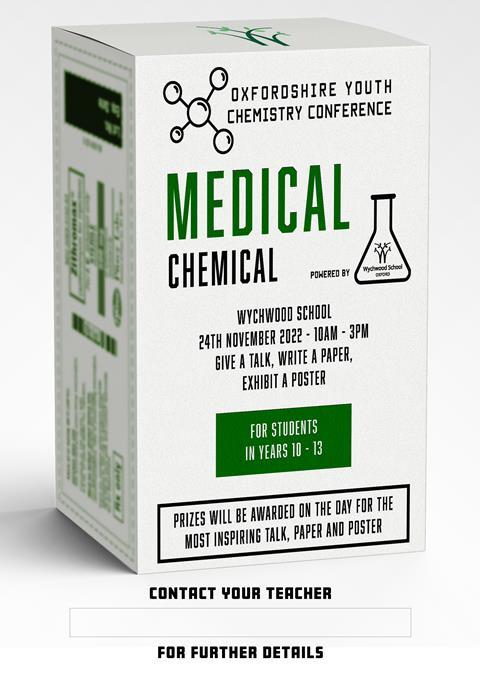 The hosts sent invitations to secondary schools across Oxfordshire over the summer asking teachers to advertise the event to their year 10–13 students. Delegates submitted abstracts to avoid duplication in the running order. Students then honed their communication skills; researching, preparing and practising their submissions with the help of their teachers before coming together at the conference to showcase their efforts.
For the first time in the event's history a peer review panel from two of the participating schools came together to select the conference papers, choosing them based on their suitability for the audience. Plans to add a feedback stage to improve the articles are already underway for next year. One Wychwood sixth former said 'being part of the organising and editorial teams was a highlight and meant that I could take on more responsibility [leading up to the conference] and gain experience of peer reviewing'. They also shared how 'participating in this conference was a brilliant opportunity to grow in confidence; speaking in front of others and developing research skills.'
Role models and molecular models
This year's theme focused on the medical applications of chemistry and external speakers from the sector attended to inspire and chat to the students. The keynote speaker was the Nuffield Department of Medicine's Paul Brennan, who delivered an interactive talk on making new medicines for Alzheimer's disease. One student at the conference said the highlight for them was 'the lectures by real academics. It's not every day that you get to learn things directly from experts in the field.' Education, chemistry and medical organisations provided donations for the welcome packs. Plus, Cochranes of Oxford donated molecular model kits as prizes for the most inspiring talk, paper and poster.
The 2023 conference's theme is Chemistry out of this world. Students will explore science, and its applications, in space. Abigail excitedly shares her organising team will likely have to find a bigger venue for the next event, having gone from four schools in its first year, then doubling and reaching 10 in 2022.
If you're in Oxfordshire, there will be space for your school in 2023. Contact OYCC@wychwoodschool.org to find out more. And if you're further afield, why not consider hosting your own student conference? Our Outreach fund may be able to help you too.