David Read calls on new chemistry graduates to consider teaching as a career. There are challenges, but help is on hand
At the time of writing, students up and down the country are in the midst of exam season. After months of preparation, these students place themselves at the mercy of examiners in a bid to demonstrate their capabilities and facilitate progression to the next step in their lives. For some of our graduating students, that next step is into the classroom. Teaching has many attractions, and a good number of students will contemplate the possibility of a career in teaching at some point during their studies, and many will seek guidance to help them make the right decisions.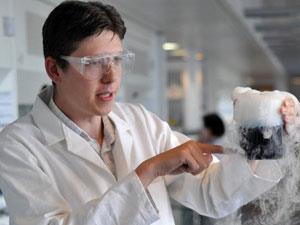 Advice and encouragement
As a former teacher now working in a university, I find myself in demand as a source of advice for students who are considering the option of teaching. My natural inclination is to be encouraging, since the addition of bright and enthusiastic graduates to the ranks of chemistry teachers is vital in view of the fact that many of our best are due to retire in the not-too-distant future. Well-qualified new recruits can draw on the experience of older colleagues and help to ensure that recent increases in numbers of students pursuing chemistry at A-level and beyond are sustained.
I am always sure to point out the downsides of teaching as well. The hours are long, sometimes excruciating, particularly in the early years. For those working at secondary level, motivating teenagers and managing their behaviour poses difficulties, and most take some time to adapt. The magnitude of the task of training to teach can weigh heavily on the shoulders of younger trainees, and a great deal of resilience is required to survive and thrive through training and the NQT year. Some good candidates lack that resilience and are unable to withstand the onslaught, which I can identify with, having survived a few wobbles during my own training.
With a risky revolution underway in teacher training, it is vital that we ensure programmes genuinely support trainees in developing the skills they need to be able to excel in the classroom.
Call to arms
With this in mind, I always recommend that prospective trainee teachers prepare themselves effectively by spending some time in schools before applying. Forewarned is forearmed, and those who embark on teacher training with their eyes open and an idea of what to expect are far more likely to succeed and stick with teaching in the long-term. In some cases, school experience serves to put students off the idea of teaching, but for many it acts almost as a call to arms, in that they see the positive side of teaching as being motivational and something they want to experience.
For those who choose teaching, what are they letting themselves in for? Statistics show that teachers are leaving in significant numbers, and the word is that many more are seriously thinking of quitting. What does this tell us about current morale in the classroom? The pressure has been ratcheted up considerably in recent years, and this is exacting a heavy toll on those at the chalkface. With a raft of initiatives and directives flying in from all angles, is it any wonder that so many are thinking of heading for the exit door?
Survival skills
A big component of the problem is the fact that many teachers feel unappreciated. Locally, it seems that senior staff are often unable to spare the time to perform the 'man management' that is necessary to maintain morale, with an occasional 'pat on the back' being all that would be needed to keep chins up. And more widely, changes to government policy and our qualification systems, accompanied by criticism of teaching standards, place a perpetual black cloud over the heads of those who are battling for survival in the classroom. 'Survival' is a rather dramatic term, but it is true to say that there are far more teachers currently describing their situation in those terms than there have been in the recent past.
Challenges and rewards
This is a terrible shame, as there are few jobs as varied, challenging and rewarding as that of a chemistry teacher. Where else can you use visual delights such as a screaming jelly baby or elephant's toothpaste to achieve the objectives of the day? Chemistry has become a popular A-level again and there is a steady stream of capable and ambitious students taking the subject.
Inspiring this generation, and getting a few more onto chemistry degree programmes, is something we should prepare our teachers to do as part of their training. With a risky revolution underway in initial teacher training, it is vital that we ensure that programmes genuinely support trainees in developing the skills they need to be able to excel in the classroom. We also need to lessen the burden placed on teachers in terms of their workload. Science teaching requires a vast amount of planning and coordination and time should be freed up for this to be done within the realms of an acceptable workload. We need to give our teachers the prospect of a fair work-life balance, otherwise we risk all our hard work in recruiting the talent going to waste when they leave a few years later. There are already too few chemistry teachers out there, and a decline could lead to a genuine crisis. Let's make sure we prevent that from happening.
David Read is chair of the Education in Chemistry editorial board and head of the education group, director of outreach (chemistry) and programme leader (science foundation year) at the University of Southampton, UK