Nicky Morgan, the Secretary of State for Education in the UK, has called for a rethink of proposals to remove the assessment of practical lab work from A-level and GCSE exams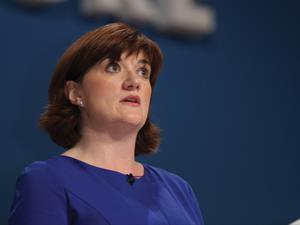 Nicky Morgan has called for Ofqual, England's exam regulator, to reconsider plans to remove the assessment of practical work from A-level and GCSE science exams.The secretary of state for education said the new plans, introduced for A-levels last year and set to come into effect from September, would hold back the next generation of scientists.
Under Ofqual's new proposals, A-level science students would still carry out practical lab work but it would not count towards their final grade. Instead, students would receive a separate pass/fail mark for their work in the lab.
But the move received a hostile response from the scientific and teaching communities. Many feel that the new system devalues the role of practical work in science education.
Nicky Morgan echoed this sentiment in a speech delivered on Tuesday evening: 'Like many in our scientific community, I fear that such a move could inadvertently downgrade the importance of these practical skills – leaving a generation of chemists, physicists and biologists who leave schools with excellent theoretical knowledge, but unable to perform key practical experiments which form the basis of a future research career.'
The education secretary's comments have been welcomed in the science education community.
The schools and colleges manager for the Royal Society of Chemistry (RSC), Nicole Morgan said: 'The science education community is united in a view that reform of GCSEs and A-levels is necessary. However, we would like to see courses and exams that recognise that practical work is at the heart of chemistry, physics and biology – not an add-on.'
The motivation behind the Ofqual's proposal is to bring assessment of practical work within the more easily regulated written exam. 'Their assertion is that it is possible to effectively assess practical science work in the written examination,' says the RSC's Nicole Morgan. 'We are yet to see any convincing evidence that this is the case.'
The regulator now finds itself in a difficult position. After announcing last month that it was beginning consultations on extending the scheme to separate practical assessment from GCSE exam marks, it is now under pressure to make a U-turn from both the teaching community and the Department for Education.
The education secretary called for Ofqual to work with teachers and scientists to find a resolution: 'I understand that a constructive dialogue is now taking place and my hope is that Ofqual and the scientific community are able to work together to find a workable solution. One that preserves high quality assessment, but at the same time ensures that what students learn in the classroom is what universities and employers agree will give budding scientists the best preparation to succeed in the future.'
With the new practical endorsement requirements for A-level science coming into effect for teaching from September this year, time is running out for any changes to the new proposals to be implemented.