Find out why experienced teachers are exiting the profession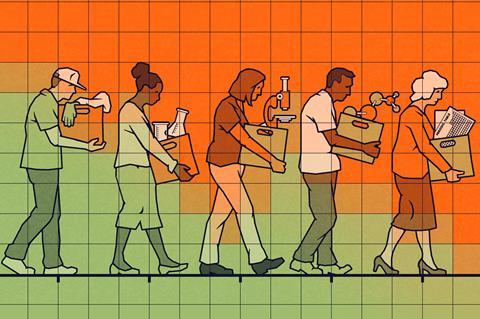 Many schools in the UK are facing a dire situation – the supply of science specialist teachers is not meeting the demand. A recent article on reasons why science teachers are in short supply highlighted this, but I feel there is more to be explored.
To fix the shortage of science specialist teachers I feel the Department for Education (DfE) is placing a bigger focus on recruitment, and there is less focus on the drain of experience. As an example, with new pay scales in England, ECTs have an 8.9% increase and teachers with more than five years of experience get 5% more. While this was intended to enhance recruitment, what message does it send to more experienced teachers? Perhaps if we have access to data of loss, in terms of years of experience, it may begin to make the education communities with the power to implement change, such as the DfE, sit up and listen.
Contributing factors
The data we do have paints a picture of why this shortage of science teachers is occurring. In terms of new educators, from the 2022/2023 ITT Census headline facts and figures the total number of new ITT entrants is down 20% from 2021/2022, with secondary school subjects only meeting 59% of their target. Recent research by the National Foundation for Education Research cites pay, workload and flexible working as some of the reasons for this drop. This research highlights that many people who consider becoming teachers are discouraged by the conditions of the job. This feeling is shared by the educators who are leaving the profession. A recent survey by TeacherTapp revealed that only 23% of teachers would choose to train as teachers again if given the option, compared to 42% in 2018. The RSC's Science Teaching Survey 2022 found that workload (30%) and burnout (35%) are the two top reasons why teachers consider leaving the profession.
There are numerous reasons why more experienced teachers choose to leave the profession and why, sadly, too often they are driven out of the classroom. Here are three key reasons I feel are causing experienced educators to leave the classroom:
Pay: I think that more experienced teachers are pushed out to balance the books. School leaders have a challenging task to manage their diminishing budgets, and I think that often replacing the more expensive teachers at the top of their pay scale is an easy solution for school leaders to go for. Sometimes, it seems to me, more experienced teachers are made to feel that they have an expiry date.
Workload: decisions made by senior leadership teams that impact those at the chalk face often create unnecessary workload in my opinion. It is seemingly rare to find key decision-makers still teaching. I believe this results in leaders being mostly out of touch with the reality of the challenges faced daily, and many open-door policies seemingly only welcome dialogues agreeing with their ideals.
Professional development: in a recent survey only 44% of chemistry teachers felt they could access adequate subject-specific CPD. Those who reported inadequate access to CPD were more likely to consider leaving the profession. I believe one-size-fits-all whole-school INSETs, mostly, in my experience, directed by school leaders trying to second-guess what Ofsted wants to see, are stifling many teachers. I feel schools have stopped thinking about what is best for their staff and students, and are more obsessed with what will make Ofsted happy.
What needs to be done
Pay and workload are central in the national debates about teacher retention. For me, the three key actions that would improve teacher retention centre on review of pay structure, recognition of length of service and subject-specific CPD.
I would suggest that a review of pay structure, at a governmental as well as union or school-level, is needed. I think there needs to be recognition in the wage system for the value of experienced teachers who stay in the classroom and do not take up leadership posts.
I also feel length of service needs more recognition. Acknowledging an educator's contribution is motivational – even if it's something simple like an award or gift. I think this should be done more consistently in schools across the UK.
Science teachers also need access to good quality subject-specific CPD, personalised to match their expertise and interests. Perhaps leadership teams in schools should make membership to their subject society or organisation mandatory as a means to meet this need? Or, SLTs could give teachers the freedom to choose some of their own CPD.
I most likely would not have stayed in teaching if I did not have the support of more experienced teachers at the start of my career. That invaluable support needs to be kept in the classroom.

Samia is head of science at More House School and an assessment associate and CPAC monitor for Pearson.
View full profile