Using students' assessment mistakes and learning deficits to enhance motivation and learning
James H McMillan
Routledge
2017 | 180pp | £15.99 (PB)
ISBN 9781138121515
James H McMillan
Routledge
2017 | 180pp | £15.99 (PB)
ISBN 9781138121515
Reviewed by Andy Chandler-Grevatt
amzn.to/2EvI6lY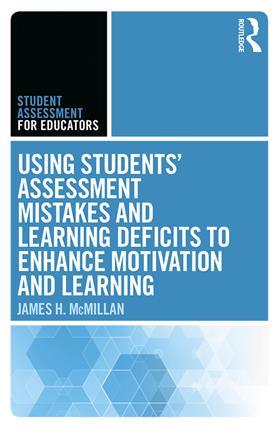 Once in Kazakhstan, I ran a workshop with a group of secondary school teachers, who said the best students made no mistakes in lessons. A deep discussion of the purpose of teaching, learning and schools followed. This short, accessible book on how students can learn through their mistakes would have been ideal to inform that discussion.
For me, this book considers the human side of teaching, learning and assessment. This is the second book in the Routledge series, Student assessment for educators, I have read and I have enjoyed it as much as the first. In this volume, James McMillan brings together up-to-date research to argue making mistakes can enhance motivation and learning (sometimes). All educational ideas are usually context-bound and McMillan recognises this throughout with 'sometimes' in brackets. He is clear about the culture in which these ideas work best.
Drawing on a range of topics, including motivation, test anxiety, self-regulation, behaviourism and neurology, James explores how learners perceive being wrong. He also suggests how teachers can create a classroom culture that allows students to respond positively to mistakes. The author describes seven principles of assessment practices that promote being wrong. He then offers several practical approaches to identifying and responding to mistakes. The final chapter looks at the diagnosis of mistakes and the most effective forms of feedback.
Champions of assessment for learning will recognise many of the practical approaches, but this book emphasises the deeper consideration of human responses to making mistakes. I recommend the book to experienced teachers who want a fresh look at how they teach and assess their students, as well as trainee teachers or master's students interested in researching alternative classroom assessment practices.