Ready, set, float! Design and create your very own chemically powered boats
The problem could be set 2 weeks or more before the day of testing.
One or two 2 h sessions will be needed for making and testing models. It is hoped that some students may become motivated to try out and redesign their models in their own time. They will need access to water to do this.
30 minutes for judging (if a competition).
Equipment
Materials per group
3 level teaspoons of sodium hydrogencarbonate
9 level teaspoons of citric acid
Equipment per group
Items from the junk list
Identical small plastic teaspoons
Balloons
Balsa wood
Tools for working balsa wood
Woodwork (PVA) or modelling glue
Thin card (cereal packets, postcards, etc)
Plastic drinking straws (straight and bendy)
Paper clips
Cocktail sticks
Plastic tubing (tubes from old ball-point pens might be useful)
Expanded polystyrene tiles
Sewing thread
Safety glasses
Access to an area of water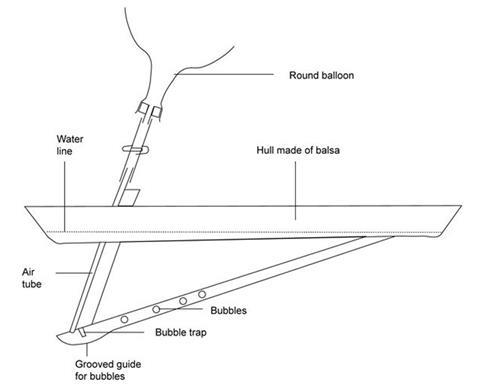 Boats using the 'bubble power' principle can travel many metres. The danger of leaks likely to be a problem on upper floors. Sections of rain guttering of 3and floods is 4 m in length make a good racecourse, but the guttering must be chosen with a bubble boat in the photograph.
Health, safety and technical notes
Read our standard health and safety guidance here.
Eye protection must be worn.
This is an open-ended problem-solving activity, so the guidance given here is necessarily incomplete.
Citric acid is an eye irritant. See CLEAPSS Hazcard HC036c.
Sodium hydrogencarbonate is of low hazard. See CLEAPSS Hazcard HC095a.
Commentary
This egg race is an extension of the boat race described in a previous publication.
The designs reported so far have all been based on jet propulsion.
The boats (often floating plastic bottles) zoom along the surface of the water, even tending to take off; however, the gas is soon exhausted and they do not go very far. Models built on a similar principle will travel along a flat, solid surface.
This challenge uses 'bubble power' to drive the model. The version in the photograph is a catamaran which can travel at a stately pace for over 30 minutes and cover a considerable distance. It was one of several models built by Alan Stevens of Loughborough University.
The design is based on the Bubble Cat catamaran, in which the bubbles of gas slide backwards up a wedge-shaped keel. The buoyancy of the bubbles produces a forward thrust on the keel, and the boat is designed to reduce the drag of the water as much as possible.
During trialling students came up with versions of their own and in one institution the problem became a joint venture between the science and technology departments.
Procedure
This activity is designed to be fun. The drawings and photograph are included to suggest a possible approach.
Extension
The students may check the stoichiometry of the reactants and may try varying the quantities to inflate a balloon an optimum amount. They may also like to adapt the model so that it can be loaded with chemicals at the start.
Notes
This resource is part of a collection of problem-solving activities, designed to engage learners in small group work. Find out how to use these resources, and obtain a list of suggested 'junk items' here.
Downloads
Experiment | PDF, Size 0.34 mb
Experiment | PDF, Size 0.24 mb
Additional information
The resources were originally published in the book In Search of More Solutions.
Alan Stevens of Loughborough University produced the first successful model boat. Berinda Banks and her pupils at Mill Hill School designed and built other versions.