The annual chemistry competition is now open for registration and will be run in a socially distanced way this year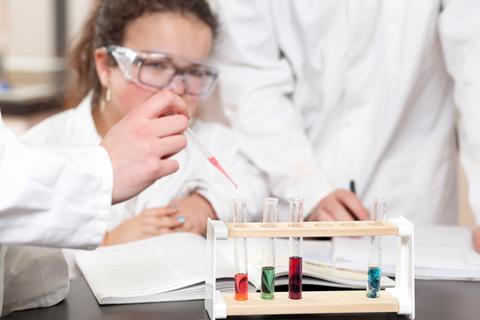 Run by the Analytical Chemistry Trust Fund and the Royal Society of Chemistry, the annual Schools' Analyst competition allows students aged 16–17 to expand their chemistry knowledge and skills through practical analytical experiments based on relevant societal or industrial problems. 2020 saw the competition cancelled due to the pandemic – but in 2021, it is open to students once again and will be operated in a socially distanced way.
Schools and colleges will register their interest to host a heat, and, in order to ensure an even distribution of teams across all areas, 200 institutions will be randomly selected to run a heat. If chosen, a school can then enter up to ten teams of three students to compete against each other to be crowned the overall school winner. Each winning school team will then compete within their RSCAD Region to find regional winners. Both the school and regional winners will receive a certificate and a prize.
Enter the 2021 competition
Register your interest to host a heat in your school by 26 February 2021 via the RSC events website. Students must be in year 12 (England, Wales, NI), S5 (Scotland), 5th year (ROI).
Each school or college contact will need to provide: the name and postal address of school/college, contact teacher name and email address, and the number of three-person teams participating within the school/college competition.
To host the competition, schools will only need standard school labware. Schools will be sent supplies – such as standards and samples, along with safety information – in the form of a competition kit, and there is also the opportunity to receive a bursary for additional items.
The deadline for entry is 26 February 2021 and the competition will run from 26 April–28 May 2021. Schools chosen to host the competitions will be informed by Friday 5 March and competition kits will be delivered by Monday 26 April, with all results to be submitted by Friday 28 May. The winners will be announced the following week at the start of June.
This year's competition will be based on flame tests, thin layer chromatography and test tube reactions for anion analysis, all linked to a case study. Students will be asked to identify the contents of waste barrels found abandoned by a river in the fictional town of Allvale. Teams will be required to carry out some background research, followed by a lab session in which they carry out their analyses.