A project to inspire a new generation of scientists from minority ethnic groups
The Royal Society of Chemistry (RSC) Inclusion and Diversity Fund supported a ten-week summer 2021 project, Highlighting Minorities in Chemistry (HMiC), striving to increase the percentage of students from minority ethnic groups in higher education. One of the key objectives of this project was to inspire a new generation of BAME scientists by creating a range of resources and information for schools and colleges that are linked to the national curriculum for chemistry.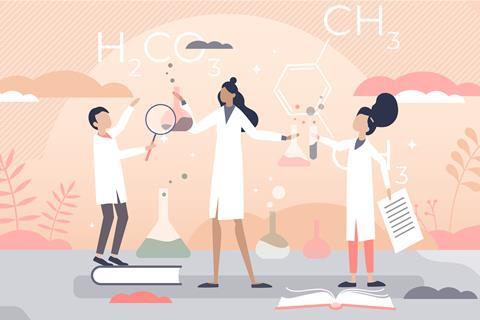 Aisha Sharif and Israt-Zahan Chowdhury, two second year undergraduate students from the chemistry department at Queen Mary University of London (QMUL), were involved in the project. Here, they tell us more about it.
Why did you start this project?
Data from the Higher Education Statistics Agency (HESA) shows that 24.7% of undergraduate students studying chemistry in 2017/18 were from minority ethnic groups. This is a small percentage in comparison to 74.5% of White students. This number further decreases to 12.6% for students undertaking PhD programmes. Furthermore, our own data from QMUL (2016/17) reveals that 87% of White students achieved a first or 2:1 compared to 80% of BAME students. This demonstrates that, despite ethnic diversity at QMUL, there is a BAME student attainment gap.
Our project therefore strives to increase the percentage of students from minority ethnic groups in higher education by providing them with role models they can relate to, thus encouraging them to pursue a career in chemistry. We have created resources suitable for the A-level curriculum, as this will allow students to see how the work of chemists who look like them links to what they have been learning during their A-level course.
Do you have a great idea for a project that will help make the chemical sciences community more inclusive and diverse? The RSC's Inclusion and Diversity Fund will fund up to £5000 for innovative projects across the chemical community.
How did you get started?
After thoroughly analysing the chemistry national curriculum, we noticed that it is not inclusive and is, in fact, colonial. This leaves students from minoritised ethnic groups with very limited or, indeed, no knowledge of their predecessors' achievements and may lead to a sense of disempowerment. Before starting to make resources, we created a questionnaire to evaluate the understanding of students and teachers of science. The questionnaire also gave us an insight into the types of resources teachers would prefer and whether they believe the curriculum should become more inclusive. We received over 200 responses.
What resources are available for teachers?
Data from the questionnaire revealed that teachers would like to have access to resources highlighting the contributions made by members of minority communities. To achieve this, we analysed the chemistry curriculum and linked minoritised scientists to it. We then created resources for Jabir ibn Hayyan, Alice Ball, James Andrew Harris and many more. We created information and fact sheets, a poster, a one-minute video and activity sheets for each scientist. We received feedback from a focus group of teachers who looked at our initial resources, which helped us modify and hone the resources for them. In May 2021, we also presented our findings at the Decolonise the Chemical Sciences: Resource Retreat organised by Katherine Haxton, senior lecturer at Keele University. This was an opportunity for us to share our project and hear about the work that other universities are doing to decolonise their curriculums.
All the resources we have created are available on the QMUL website for teachers to download. We also created a spreadsheet with links to resources, where scientists are linked to the relevant curriculum point so teachers can easily choose which resource/s to use. And we indexed the national curriculum topics to the resources to help teachers find them. There are links for teachers to find resources for younger age groups, too. We feel that these ready-made classroom resources will greatly benefit teachers. Providing resources about scientists from minoritised groups will inspire students to enjoy their science lessons and motivate them to aim higher.