How nature is inspiring a new generation of environmentally-friendly sunscreens
Two types of ultraviolet (UV) rays from the sun reach the Earth's surface. Both are harmful. Long wave UVA light penetrates our skin causing wrinkling and sunspots. Short wave UVB light mostly attacks our outer layer of skin leading to sunburn and tanning. Both cause skin cancer.
Public health advice worldwide recommends liberal use of a broad spectrum sunscreen, for protection from both UV types. For decades, aside from complaints over greasy textures and the staining of a few clothes, the reputation of sunscreens has remained remarkably clean. 'It's a lifesaver', has been the official government message.
In the past couple of years, however, the tide of legislative opinion has started to turn. This follows growing concerns that some of the popular sunscreen ingredients may be damaging coral reefs.
As the summer approaches and our thoughts move to hitting the beach, this article presents a great opportunity to discuss the hazards that may be associated with scientific developments and how these must be considered alongside the benefits. Environmental concerns around microplastics will be familiar to most students, but have we thought about the wider effects of our beach sunscreen routine? In this article, students are introduced to concerns over common UV-absorbing chemicals found in sunscreen and their impact on coral reefs.
Thousands of tons of sunscreen end up in our oceans each year, much of it washed off our skin as we enjoy a dip in the sea. Recent research has indicated that some of the chemicals these products contain can then be absorbed by corals doing harm such as causing bleaching. Governments are starting to act.
On 1 January 2020, the Pacific island of Palau will become the first country to ban all sunscreens that contain any one of ten chemicals. In the US, a year later, bans on sunscreens containing two chemicals will come into force in the state of Hawaii and the city of Key West in Florida. The Caribbean island and Dutch municipality of Bonaire has similar legislation pending.
The naughty list
Only four of the chemicals being banned in Palau have UV protecting properties: oxybenzone, octinoxate, octocrylene and 4-methyl-benzylidene camphor. Some antimicrobials and preservatives are also on the list. Oxybenzone and octinoxate are also being banned in parts of the US.
The UV protectants facing bans are all organic molecules that absorb UV rays and convert them into a small amount of heat. There is a second category of active sunscreen ingredients, inorganic molecules, which mostly block or reflect UV radiation instead. Zinc oxide and titanium dioxide are the two most frequently used.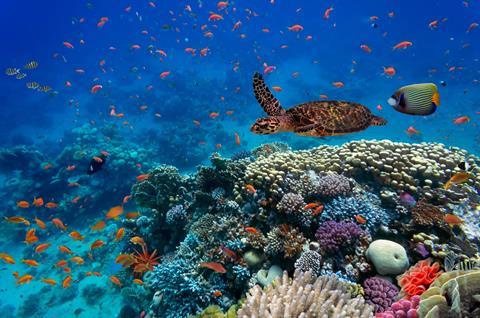 The inorganic ingredients tend to be less popular with consumers as they can leave behind a white coating and be harder to rub in. Nano-sized versions of these minerals overcome some of the issues, but come with their own (different) environmental concerns.
So what are 'reef-friendly' active sunscreen ingredients? That's a hard question to answer. An added complication here is that some researchers believe there isn't sufficient evidence yet that the organic molecules on the naughty lists are actually harmful at the concentrations and conditions seen in the wild. Most of the research so far has been done in the lab.
Lessons from nature
Most manufacturers are using larger, non-nano particles of zinc oxide and titanium dioxide in sunscreens marketed as reef-friendly. Others are reaching for natural organic molecules. 'Nature already has many good solutions for protecting organisms from UV damage,' explains Yousong Ding, an assistant professor of medicinal chemistry at the University of Florida in Gainesville, US. Yousong is focusing his attention on the natural product shinorine, which is already used in a couple of commercially-available sunscreens.
A number of marine organisms, including marine algae and cyanobacteria, produce shinorine to shield themselves from solar damage. 'These marine organisms cannot move but are consistently exposed to UV damage,' Yousong says. 'Shinorine is how they protect themselves.' Currently, it is extracted from a type of red algae harvested from the wild, which limits the volume available for sunscreen production.
Sunscreen structures
Worksheet, for age range 14-16
In this worksheet, students are encouraged to look at the chemical structures of some of the UV absorbing chemicals discussed in the article. Students are required to apply their knowledge of organic chemistry to identify familiar functional groups before being asked to compare the structures and recognise similarities and differences. They are then challenged to identify the conjugated systems in the molecules that give them their UV absorbing properties.
Download the worksheet as MS Word or pdf and the worksheet with answers as MS Word or pdf.
Yousong is keen to use his biotechnology know-how to develop a more reliable production method that can be used on a larger scale. 'Shinorine sunscreen products are not widely available, you can't grab them from grocery stores or supermarkets yet,' he explains. Yousong hopes to change this.
The chemists inserted the genes responsible for the natural synthesis of shinorine in the cyanobacterium Fischerella into another – faster growing – strain of cyanobacterium, Synechocystis. Yousong's engineered cyanobacterium produces shinorine in just a few weeks, compared to the year needed with the red algae. 'We are interested in working with some companies about the possibility of using our production method commercially,' he says.
Adding a protective layer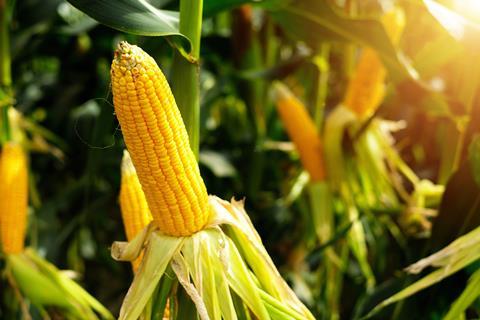 Not all natural UV protectants are suitable for using in sunscreen formulations. Dutch researchers have been working with the consumer goods manufacturer Unilever on a way to circumvent this, by coating them in natural polymers.
Encapsulation prevents the active molecules from coming into direct contact with the skin, which has several advantages, explains Arnout Imhof, an associate professor of soft matter at Utrecht University in the Netherlands. It protects the molecules from degradation, caused by oxygen or other chemicals in a sunscreen formulation, and also protects the skin from any irritation from the molecules.
Quercetin, retinol and p-coumaric acid are the three natural products that Arnout chose to encapsulate. 'Together these absorb the complete UV part of the spectrum,' he explains. His team were able to successfully coat these in both ethyl cellulose, a derivative of cellulose, and the protein zein, from the maize plant.
Time will tell whether Arnout's or Yousong's approaches will make it out of the lab and onto the shelves. But with the bans starting to be enforced in the next couple of years, the future is looking bright for any sunscreen able to put reef-friendly on its label.
More resources
Mission Starlight: a global experiment on UV protection – In the latest of the RSC's Global Experiments, students work through a series of investigations looking at which materials are the best at blocking out UV radiation, before applying their findings to make a UV block suitable for use in space.
The science of sunscreen infographic – A visually appealing infographic that describes the different types of UV radiation and gives the structure of some of the different chemicals found within sunscreens.
Faces of Chemistry: sun lotion – In these videos aimed at the 11+, 14+ or 16+ age range, scientists from Croda explain how sun lotions help protect us from the sun's harmful UV radiation. A great opportunity to promote STEM careers within your classroom.
More resources
Mission Starlight: a global experiment on UV protection In the latest of the RSC's Global Experiments, students work through a series of investigations looking at which materials are the best at blocking out UV radiation, before applying their findings to make a UV block suitable for use in space: rsc.li/1PAC3FK
The science of sunscreen infographic A visually appealing infographic that describes the different types of UV radiation and gives the structure of some of the different chemicals found within sunscreens: rsc.li/2VVW7wS
Faces of Chemistry: sun lotion In these videos aimed at the 11+, 14+ or 16+ age range, scientists from Croda explain how sun lotions help protect us from the sun's harmful UV radiation. A great opportunity to promote STEM careers within your classroom: rsc.li/30QRdFm