Tom identifies and unravels the mystery behind the rocks and minerals of Wales
Mae'r proffil hon ar gael yn Gymraeg
Hi, I'm Tom and I work as a senior curator in mineralogy for Amgueddfa Cymru – Museum Wales, specifically at National Museum Cardiff.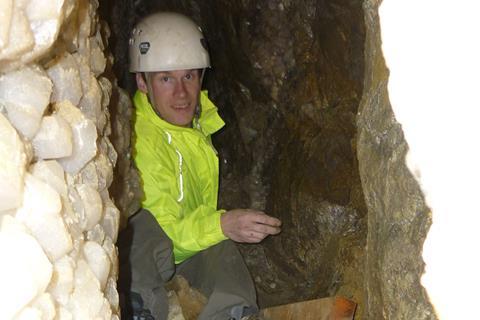 What does a senior curator at Amgueddfa Cymru do?
My company cares for Wales' national collection of rocks and minerals, providing public outreach, exhibitions and learning.
How does your work affect the world around us?
By studying the rocks and minerals of Wales, we can investigate how Wales has changed through geological time and can provide information about what resources have been mined and could potentially be mined in the future.
Salary range and qualifications required
Salary range:
curator (at a national museum level): £26,000–£32,000
senior curator: £32,000–£36,000
principal curator: £34,000–£40,000
head of section: £44,000–£50,000
Minimum qualifications:
curator: minimum degree level (usually 2.1 or above)
senior curator: usually requires a higher-level degree (master's or PhD)
What is your typical day like?
Varied. No two days are ever the same but are always a mix of curation (labelling and databasing mineral specimens); research (reading about mineralogy/geology, analysing specimens using fancy equipment – X-ray diffraction – and writing scientific papers); answering enquiries; writing and presenting talks; writing exhibitions; and, of course, meetings and checking emails.
Why did you choose chemistry? What keeps you motivated?
Ironically, I didn't study chemistry at A-level but I should have. Most of my knowledge has been self-taught or picked up from my geology degree. I now love minerals' chemical formulas and have an encyclopaedic knowledge of mineralogy. The wonder of minerals keeps me motivated.
What do you love about your job?
Everything: working with the things I love – minerals – and being able to identify seemingly unknown substances from tiny amounts of powder.
What skills do you need for your job?
You need a passion for the subject, a love of fieldwork, an ability to learn and remember how to identify different minerals, neat handwriting (for the specimen labels), problem solving and a forensic mind (for mineral identification), but to also be comfortable with mundane tasks like writing labels and inputting information into a database.
How did you find your job?
I found my job through a recommendation by my university (master's) tutor at the Camborne School of Mines – I wasn't actually looking but got pushed into applying.
How did your qualification help you get your job?
My qualifications (BSc joint honours in geography/geology and MSc in mining geology) provided me with the geological background, but my mineralogical knowledge was self-taught through exploring mine sites and geological localities as my hobby.
What advice would you give to a young person considering a career in your field?
For me, mineralogy is a passion. Very few people, let alone geologists, have the knowledge to identify minerals. I learned that, to be able to identify minerals, you need to handle them to feel their density and see their lustre, which isn't represented in photographs. This experience and knowledge is not taught through courses – although they help – but requires a dedication and passion for the subject. This, for me, is what sets true mineralogists apart.
Specific to museums, there are very few mineralogical roles within them – usually just national museums, so you need to make sure that you are the best.
What are your plans for the future?
I am a specialist in mineralogy and mineral identification; the only other option would be mineral dealing (which requires considerable world travel) or perhaps an analytical position.
Want to know more?
Tom Cotterell, senior curator for Amgueddfa Cymru.
Hear from more chemical scientists in Wales
Discover profiles of other chemical scientists working in Wales, ranging from pollution control and pharmaceuticals to product development and more.
Published September 2022