'Whatever your specialism or experience, the RSC has a course that's right for you'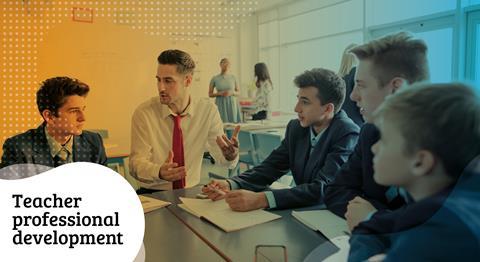 The Royal Society of Chemistry (RSC) offers a wide range of personal development opportunities for teachers. The courses are free, remotely taught by professional teacher developers, cover 19 different topics in teaching chemistry and there's no limit to how many you can take. 'Whatever your specialism, or experience, the comprehensive teacher development programme from the RSC has a course that's right for you,' says Richard Burton, Teacher PD service manager at the RSC.
1. Live online courses
The RSC's live teacher professional development (PD) courses are free to attend. Each session is led by an experienced teacher developer and represents a genuine opportunity for teachers to update their existing skills and gain in-depth understanding of key concepts in teaching chemistry – whatever their current experience level. Attendees also get access to custom-produced resources to support classroom activities.
Visit the Teacher PD page to browse a list of all upcoming courses
2. On-demand courses
Also available from the RSC's Education website are on-demand professional development courses that allow teachers to learn at the time most convenient to them. Each course consists of concept-focused sessions to build confidence in every topic. 'The courses can be completed at your own pace, allowing you to try out new strategies and activities in your classroom before progressing further,' explains Richard.
Committed to supporting PD during the pandemic, the RSC is currently fully funding all on-demand courses – simply register on the RSC Teacher PD website.
3. Video recordings
Please note
Our video recordings are no longer available. We apologise for any inconvenience this may cause.
It's not too late to catch up on any of the RSC's live courses that you may have missed. The RSC Education website has a comprehensive array of video recordings of previous sessions that collectively span the full breadth of chemistry teaching, with even more set to be uploaded. There's also a selection of stand-alone recordings complete with downloadable companion sheets, containing links to key resources and questions that will be useful to both specialists and non-specialists looking to develop their expertise.
4. Course resources
The RSC's Teacher PD courses are accompanied by custom-produced resources featuring activities for the classroom. These resources are most valuable after attending a course when you want to put into practice with your students some of the ideas and activities you've learned about. Resources available cover the subjects from each of the Teaching chemistry series of courses.
5. Free articles
'You may not think that reading an article qualifies as professional development, but it can be one of the most effective ways to stay on top of advances in your field,' says Richard. You can access an online curated collection of CPD articles from Education in Chemistry, the RSC's dedicated magazine for chemistry teachers. These articles cover topics spanning the breadth of chemistry, following the Teaching chemistry series of courses.