Try these easy ways to bring UN sustainable development goal 12 into your teaching of life cycle assessments, polymers and batteries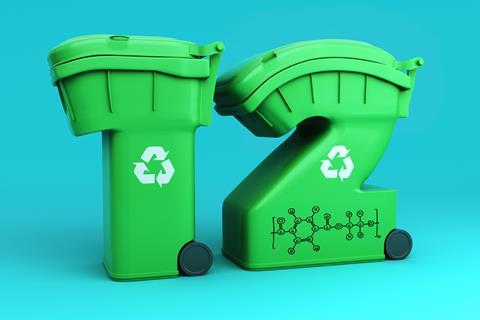 There are several topics where Goal 12: ensure sustainable consumption and production patterns, links into chemistry teaching at 14–16. Sustainable consumption and the importance of reducing the use of resources is higher on the agenda than ever before.
While many people feel a personal responsibility when it comes to such matters, the UN reports that global material footprints are increasing at a faster rate than population growth. The worrying news doesn't stop there – the UN also claim, if population growth reaches 9.6 billion by 2050, the equivalent of almost three planets could be required to provide the natural resources needed to sustain current lifestyles. The key message we must share with our students is that chemistry has a vital role to play in solving these global challenges.

Our material footprint (the amount of primary materials needed to meet the basic needs for food, clothing, water, shelter, infrastructure and other aspects of life) increased by 17.4% from 2010 to 2017, which indicates that there is a lot of work to do. One of the materials required is, of course, water. See Goal 6, ensure availability and sustainable management of water and sanitation for all.
You can use the UN's own resources for Goal 12 to get students thinking about how individual actions can reduce the materials they consume. Download the resources below for an activity that will help learners reflect on their own individual actions and the impact they have on the climate and society. The suggested class discussion is a great opportunity to hear learners' concerns and understand their views, and the second task is a valuable opportunity to link actions directly to greenhouse gas emissions based on real data.
Download this
A research and reflect activity, for age range 14–16
This two-part activity asks learners to consider how their individual actions impact the climate and society. Teacher notes and a student worksheet include guidance on where to find out more about some of the issues surrounding consumption and production of materials.
Download the student worksheet and teacher notes from the Education in Chemistry website: rsc.li/3kHppOe
Put it in context
Production patterns are not explicitly stated in the GCSE curriculum but can be tied into many areas that are. With the UN report also noting that 13.8% of food is lost as it moves through the supply chain, it is vital that we make these links clear and obvious for our students. It isn't just production patterns however, electrical waste (e-waste) has increased from 5.3 to 7.3 kg per capita due to increased consumption as well as shorter product life cycles. This provides a great opportunity to link production patterns to life-cycle assessments (LCAs).
Get your 14–16 students to think about the full LCA of their clothes and to understand the environmental impacts of fast fashion as well as learn about more environmentally friendly alternatives. A great way to link LCAs to single-use plastics (as well as challenge a possible taboo) is for your students to complete an LCA of period products. The resource includes teacher notes, information sheets and student worksheets that allow for links with other environmental issues close to home.
Put it into practice
Waste comes in many different forms and your students will be more aware of some than others. With your 11–16 students, look at how new technologies are helping to reduce food and wrapper waste with the Packaging promise article. Develop literacy skills by allowing students to read the article and produce a graphic organiser. There is a great opportunity here to link plastic waste to different types of polymers, using this polymer puzzles resource.
E-waste is an example that your students may not be so familiar with. It is a global issue; however, it is thought that many of the electrical products used in high income countries are exported to lower income countries where they end their life cycles. Unfortunately, in many of these lower income countries, the recycling infrastructure for such products is not developed enough and therefore much less can be recycled. As a starter activity, ask your students if they know where they should recycle their electronic devices such as mobile phones, tablets, laptops, televisions etc. If they are not aware, they can use the Recycle your electricals website to find out.
Link to the chemistry of batteries as well as the challenges of mining for lithium with this article and resource, New power, old batteries. The article also introduces the principle of a 'circular economy'. Why not link this to upcycling and set your students a practical homework task to upcycle something from their homes rather than simply throwing it away? Lots of examples are available on Pinterest.
Check out the rest of the Sustainability in chemistry series.