This is how to work out what your students have already learned
Pupils can have strengths in one area and weaknesses in another. So it is important you build up an accurate picture of the current understanding of all your pupils.
To find out what pupils know, we use a form of diagnosis: what exactly is it that they know and more importantly, what don't they know (yet). There are various ways to diagnose pupils' prior knowledge. This diagnosis can be used to remedy any gaps before new content is introduced.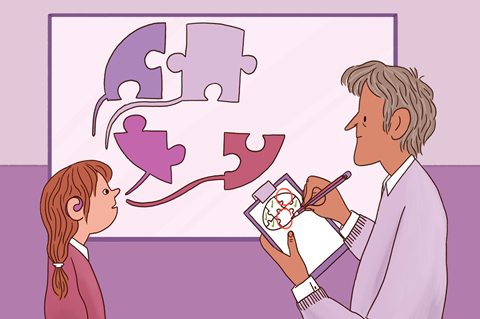 MFIs
Often at a start of a topic, I ask pupils for MFIs, My first ideas, using a prompt question. For example, show year 7 a melting ice cube. Ask them to use as much science as they remember to explain what is happening, prompting them to use key words, sentences and diagrams to aid their explanations. This quickly reveals what they have remembered from year 6; download a My first ideas template below. From this I can plan my teaching of the topic appropriately.
There are a number of approaches to ascertain prior knowledge, for this article I have divided them into Teacher diagnosis, Self-diagnosis and Peer diagnosis.
7 simple rules to boost science teaching
Click to expand and explore the rules
Teacher diagnosis
You can use a formal test to assess prior knowledge, often known as a baseline test. If well designed, it can give an accurate picture of the gaps in previous learning. However, the feedback is delayed, as you have to mark it, and starting the year with a formal test is not the best welcome to a new class or topic. However, such tests can be made formative by adding a self-assessment element with appropriate interventions; Make the most of tests can help.
An alternative approach is to use free ready-made diagnostic questions, with interventions for example from Best Evidence Science Teaching. These include diagnosis activities, provide intervention activities, and require no marking. They also add an element of self-assessment, allowing pupils to recognise what they don't remember and addressing that gap.
Self-diagnosis
Pupils feel less pressure doing low stakes self-assessment tests through which they can assess what they know and don't know with a series of questions. These can be a list of factual questions or more conceptual questions. They usually require just a word or phrase answer. For any questions they cannot answer or get wrong, they can use a textbook to find the answers. You can download a My self-tester template below to get you started with this style of diagnosis.
If you want to check pupils' understanding of a key concept and you would like to diagnose not only what they got wrong, but why they got it wrong, you can use activities like pinchpoint questions. These can diagnose the reason for mistakes which include: lack of knowledge, a missing connection, a misconception or a misunderstanding. Depending on the types of mistake made, you can provide appropriate interventions.
Download templates for My first ideas and My self-tester (as MS Word or pdf) and questions for peer diagnosis (as MS Powerpoint or pdf).
Peer diagnosis
Pupils are more likely to receive feedback more positively from a peer than a teacher, so peer diagnosis is an opportunity to harness this. However, it is more effective if you do it in a structured and supported way. The basic approach is:
1. Get pupils to individually respond to a low-stakes diagnostic task, such as an MFI style activity.
2. In small groups (3-4), ask pupils to go through a structured review of each other's work, identifying the best bits and areas that could be improved. Ask them to discuss both.
3. Get pupils make corrections to their own work.
4. Ask pupils to reflect on their learning.
It is important to ensure pupils deal with this sensitively, so give them clear criteria and guidelines. However, once they get used to it, they can learn a lot from each other and improve their knowledge.