Kristy Turner describes three key skills your post-16 chemists need for university and explains how to develop them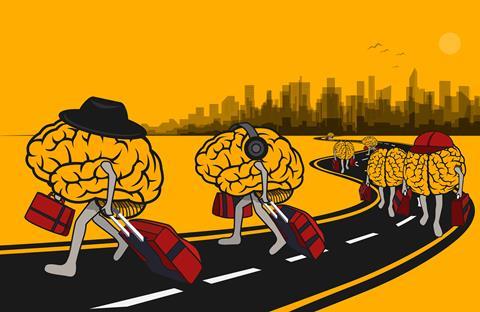 As students move into their final years of chemistry education there is a lot to think about: university applications and interviews, and of course those final exams. However, our thoughts should also turn to how we help our pupils to make the transition from school to university. All educational transitions are tricky and carry a risk of underachievement. The transition to higher education (HE) is one of the least regulated transitions in a chemistry student's academic career. At previous transition points there is some communication between institutions, students may attend transition days and information is often shared. However, when they enter HE, students are adults and so the only information that really comes with them is their grade profile and some personal details.
Of course, universities do have activities to try and smooth the transition. These range from academic inductions, adjustments to pastoral structures and curriculum, through to social activities designed to build collegiality. However, that doesn't mean that the responsibility lies wholly with the universities – as school teachers we also have a responsibility to help our students make the best possible start in their next step.
As a school teacher fellow, I have a unique position working on both sides of the transition: I see my year 13s leave in the summer and just a few months later their equivalents walk through the university's doors to study undergraduate chemistry. Because of this, for a number of years now I have been adding activities into my school's post-16 programme to ease the transition. Here are my three key tips for transition activities.
1. Move beyond recipes
Recipe-type practicals are most commonly used in schools and colleges because of the limitations of the school day and the assessment framework. There are still elements of that in university work, especially in the first year (which may be generally designed that way to help with transition). However, undergraduates are quickly expected to think for themselves and use their understanding of chemistry to make decisions about the procedures they're carrying out.
One of my transition activities (available in the downloads below) is based around the skill of recrystallisation. This technique for purification of a crude solid is a standard skill at 16–18. In the usual curriculum, students simply follow the steps with a suitable solvent already defined for them. They may do it once as a stand-alone skill and then perhaps repeat it in a synthetic work-up, such as the aspirin preparation. One of the key skills of a synthetic chemist is finding a suitable solvent or solvent mixture for recrystallisation and this is something that is integrated into undergraduate courses. Therefore, this transition activity guides students in choosing a suitable solvent for the recrystallisation of acetylsalicylic acid – a small taste of the independence of thought needed for successful transition to HE.
Download this
Practical investigation, 16–18
A transition task for your post-16 students to practise their independent thinking: given only some background information and a list of equipment they can use, students must carry out a series of experiments to determine the best solvent or solvent mixture for the recrystallisation of acetylsalicylic acid.
Download the student instruction sheet (as MS Word or pdf) and teacher notes (as MS Word or pdf).
A transition task for your post-16 students based on investigating the best solvent for the recrystallisation of acetylsalicylic acid from the Education in Chemistry website: rsc.li/3hhTSSp
2. Use a range of reference sources
The 16–18 exam curriculum is very prescriptive and a range of resources have sprung up to support this, including specification-specific revision guides and websites. However, as concepts get more complex, students need to let go of the idea that one source of information will provide all the answers. They also have to move beyond the low-hanging fruit of Google and start interacting with textbooks. This is difficult to achieve within the school curriculum, and so will require specifically designed activities. This could be homework or, as happens in our biology department, a literature review task set over the summer.
3. Increase independence in the lab
Time is tight in school, so when we do practical work we tend to make things as easy as possible. The equipment is put out for students, it's the right size and it's clean. At the end of the activity they return their kit to washing-up bowls and their responsibility ends. This is, of course, not the case when they enter university labs – and so encouraging a degree of independence in the logistics of practical work is helpful. We use an investigation in the summer term of year 12 as a good opportunity for students to do this. A range of equipment is provided in the lab and students individually and collectively have to take responsibility for its upkeep across the project week.
In each year we might only have one or two students who intend to pursue a chemistry degree, but these activities also develop key skills that are useful for any future study or indeed employment or apprenticeships.
Get more resources
Start your lessons with the short Starters for 10: transition skills quizzes to help embed the practical, mathematical and chemical skills required for advanced courses.
Use our Interactive lab primer resources to upgrade students' knowledge of common lab techniques plus all the core safety information, skills and apparatus they need to be familiar with.
Embed these ideas and strategies to boost more general skills essential for HE, such as note taking and organisation, into your practice.
Start your lessons with the short Starters for 10: transition skills quizzes to help embed the practical, mathematical and chemical skills required for advanced courses: rsc.li/3FWrShA
Use our Interactive lab primer resources to upgrade students' knowledge of common lab techniques plus all the core safety information, skills and apparatus they need to be familiar with: rsc.li/3aOhLNE
Embed these ideas and strategies to boost more general skills essential for HE, such as note taking and organisation, into your practice: rsc.li/3C4D6OE

Kristy Turner is a school teacher fellow at University of Manchester/Bolton School, UK
View full profile