How does a recipe for Hanukkah doughnuts compare to a scientific method or a set of integrated instructions?
This resource is part of a collection of ideas and activities for chemistry lessons in the festive season.
Learning objectives
This resource can be used flexibly to meet some or all of the following learning objectives:
Interpret different forms for communicating practical instructions.
Convert practical methods between different forms.
Evaluate the advantages and disadvantages of different forms of practical instruction.
Introduction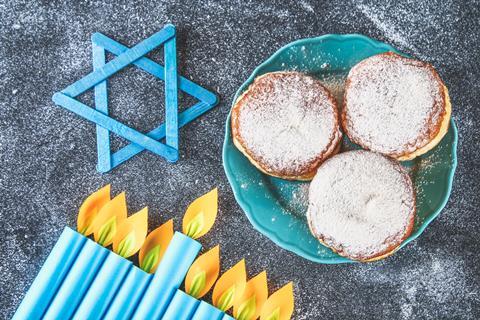 Hanukkah doughnuts (sufganiyot) are a sweet cake enjoyed during this Jewish festival of lights, celebrated from the 25th day of Kislev, usually falling in November/December.
Recipes for making the doughnuts can be found in hundreds of cookery books and on thousands of websites. However, these recipes usually assume some prior knowledge of cookery.
More detailed instructions can be provided in a similar way to how science practicals are written – numbered lists of imperative statements, clearly identifying apparatus.
A third way to provide the instructions is via integrated instructions – a combination of concise text and diagram-based instructions.
This activity is designed to develop skills in interpreting different forms of instruction, identifying advantages and disadvantages in the different forms, and/or converting between different forms.
How to use
The activity can be used in different ways depending on the desired learning objectives.
Students could complete a side-by-side analysis of the three forms of instructions, identifying advantages and disadvantages. They could take this further to improve the instructions provided. For example, they could combine elements of the different instruction forms to produce optimal instructions for themselves or their peers.
Alternatively, students could be provided with one or two of the forms, and then develop their own version of the third form. For example, one student could convert the traditional form into integrated instructions form, and the second student vice versa. By comparing the instructions they developed with the forms provided, they could evaluate the reliability of the methods they have produced.
Equipment
Paper or electronic copies of the practical instruction forms
Paper/pen or electronic notebook to produce their own instructions